General Phone usage and functions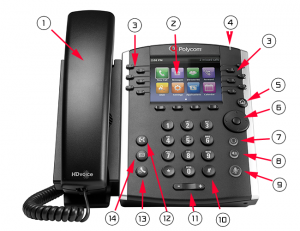 Handset
Color Display
Line Keys
Voicemail Indicator Light
Home Key
Navigation Keys/Select Keys
Headset Button
Speakerphone Button
Mute Button
Dial Pad
Volume Control
Transfer Button
Hold Button
Messages Button
PLACING A CALL
1. Pick up the handset or press the speakerphone key 

.
2.Enter the phone number and press Send or Dial
Check out Phone Usage Privacy keys. 
ANSWERING A CALL
To answer with the handset, pick up the handset.
To answer with the Speakerphone, press the speakerphone button

 or press Answer.
To answer with the headset, press the headset button 

To answer a new call while on an active call, press Answer. The current call will be held.
ENDING A CALL
To end an active call, replace the handset, press the speakerphone button

 or press the headset button

 Or, press End Call.
To end a held call, navigate to Calls view and highlight the held call. Press Resume, and press End Call.
CALL FORWARDING
This feature will redirect all incoming calls to another phone number.
To activate this feature dial *72 on your phone.
At the prompt enter the phone number calls should be directed to.
Once the system plays a confirmation message, hang up.
To turn this feature off dial *73 to return incoming calls back to normal.
Once a number has been setup for Call forwarding dial *74 to toggle the function on or off again.
LINES VIEW
Lines view displays phone Lines, Favorites and soft keys. If your phone is idle, you can press the Line key to access the Dialer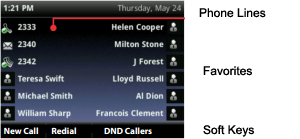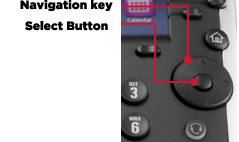 Note: Using the Navigation Keys while in Line View will quickly access calls on the device
Press Left on the navigation key to access Received calls
Press Right on the navigation key to access Placed calls
Press Down on the navigation key to access Missed calls
VOICEMAIL TRANSFER
To transfer a call directly to voicemail initiate a transfer and dial *0 followed by the extension of the recipient
A typical case for this feature is when you receive a call for somebody in your company who is already speaking on the phone
ENTERING DATA
Use the dialpad keys to enter information. To backspace, press

 or press cancel
STANDARD CONFERENCE
Placing Conference Calls (Up to 3 parties)
Call the first party, and after the call connects, press More, and select Confrnc. (Note: More and Confrnc will appear after you start the call.) Then, dial and connect with the second party and press Confrnc again.
From Lines or Calls view, you can:
Press Hold to hold all participants, press Resume to retrieve conference from hold.
Press End Call to end the conference call.
Timesaver: Placing Conference Calls
If you already have an active and held call, press
Join to bring these calls together in conference
CONFERENCE ROOM
Dial 501 To enter the conference room
Hit "Confrnc" to have another extension enter the conference
for an incoming call, dial transfer then "Confrnc" buttons
To dial out and add to conference room press new call then transfer and then "Confrnc".